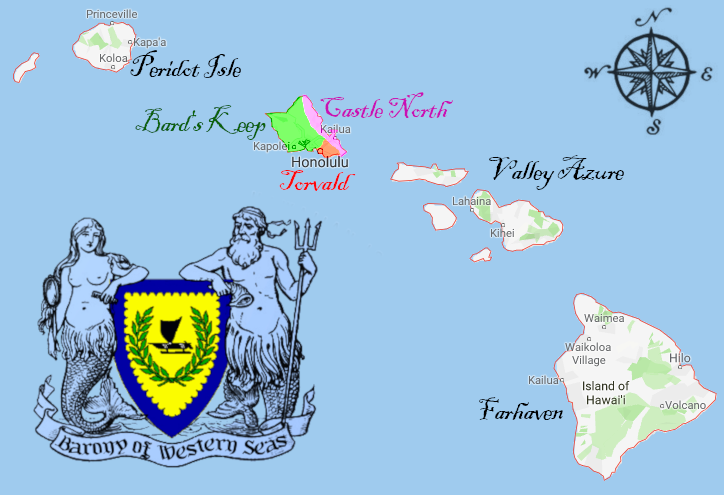 BRANCH DEFINITION:
BARONIES are areas with at least 25 members and are administered by a Baron, a Baroness, or both as ceremonial representatives of the Crown. These representatives have the ability to create and administer awards.
CANTONS are local branches with a minimum of 5 members that report through a Barony.
ACTIVE CANTONS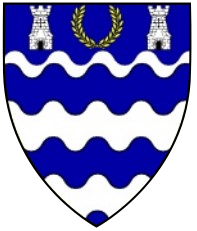 CANTON OF BARD'S KEEP
Encompasses the Central and Leeward sections of the island of O'ahu. 

CANTON OF CASTLENORTH
Located on the Windward side of the island of O'ahu in Hawai'i

CANTON OF FARHAVEN
Located on the entire island of Hawai'i

CANTON OF VALLEY AZURE
Includes all islands of Maui County; Maui, Molokaʻi and Lanaʻi.
INACTIVE CANTONS
CANTON OF PERIDOT ISLE (dormant)
At this time, Peridot Isle is dormant. If you would like to help and lead this Canton, contact the Baronial Seneschal. Peridot Isle is the Island of Kauaʻi with members getting together on a rather leisurely schedule. It is best to coordinate with the Seneschal when considering a visit to the isle to see if something is transpiring. Most members live in Lihuʻe and will gather at a whim to discuss the arts and sciences of the period.
CANTON OF TORVALD (dormant)
Although dormant, practices are sponsored by the Barony. If you wish to lead this Canton and bring life back (before Bard's Keep encompasses all!), contact the Baronial Seneschal. Torvald is the oldest of cantons within the Barony, claiming the capital area of the state, Honolulu. Including the most populous areas from Hawaiʻi Kai to Kalihi – and all boroughs between. This includes the most iconic of beaches, Waikiki, and the entire valleys of Palolo, Manoa, Nuuanu and Kalihi proper.